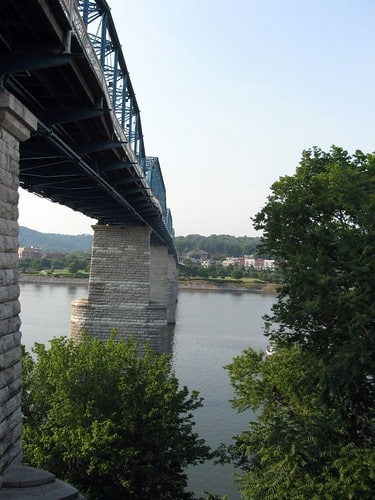 From festivals and music, to the arts and cultural events, there is always something fun and exciting happening in Chattanooga, all showcasing the vibrant creativity that makes Chattanooga such a popular travel destination.  Summer music festivals in the Chattanooga area in particular are a popular and highly anticipated event each year.  Guests that choose to stay at our Chattanooga area bed and breakfast love to spend time indulging in the vibrant culture of this exciting city.  The free summer music weekends along Chattanooga's Riverfront, or the relaxing concernts high atop Lookout Mountain, are an exciting way to spend a day living like the locals.  Don't miss out on the fun, and book your room at our luxury Bed and Breakfast Inn today.
Summer Music Festivals in Chattanooga
Join the crowds for hours of entertainment at the 9th annual Riverfront Nights Summer Music Series, located at the beautiful Chattanooga Waterfront.  Riverfront Nights is one of Chattanooga's most anticipated free outdoor concert events.  Not only does this popular event feature an incredible music lineup, but they also feature many of the lifestyle elements central to the way of life in Chattanooga, including healthy living, sustainable development and business practices, and of course an intense love of outdoor adventure.  These family and pet-friendly events are a wonderful way to connect with the Chattanooga lifestyle as you listen to some incredible musicians.  Even though we're halfway through summer, it's not too late to see great acts like Jacob Powell, Rosco Bandana, The Main Squeeze, and The Producers.  Local bands start at 7pm, with the headliners playing until around 10.
Another popular music festival, located just minutes from our Bed and Breakfast Inn, are the Summer Music Weekends on Lookout Mountain.  Rock City Gardens, located at the top of beautiful Lookout Mountain, is a wonderful place to visit during the summer.  Bring the whole family here, and explore the 4100 feet of walking trail, where you'll encounter soaring rock formations, caves, lush gardens, a beautiful 90-ft waterfall, and a 180-ft long suspension bridge that showcases the view out over beautiful Chattanooga Valley.  Explore the climbing wall at Lover's Leap, where you'll be rewarded with a 7-state view, and be sure not to miss Fat Man's Squeeze, Fairyland Caverns, and Mother Goose Village.  Once you've taken in the beautiful sites of Rock City, don't miss the birds of prey show, Rock City Raptors.  End your day listening to some fantastic music featuring the Old Time Travelers.  After a fulfilling day of fun in Rock City, come back to our luxury Bed and Breakfast Inn, where you'll enjoy our relaxing hospitality and the quiet comforts you expect. We look forward to your stay!