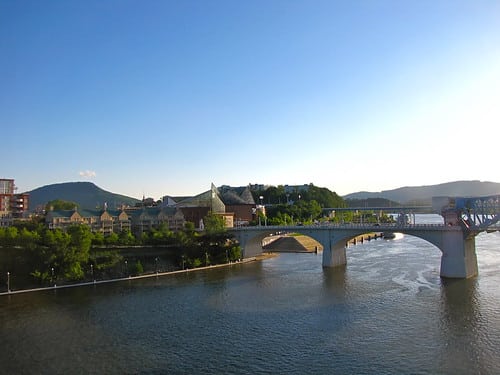 The air is crisp, and the trees are slowly beginning their annual display of color.  Fall is in the air.  With just over a week to go until the official start of the autumn season, the excitement for Chattanooga's spectacular fall events is starting to build.  The Tennessee Valley is most known for its abundant natural resources, and the active outdoor lifestlye they inspire among those who live here.  Coming to Chattanooga in the month of October is the much celebrated RiverRocks festival, which celebrates the majesty of the area's mountains, rivers and forests.  If you'd like to get in on the incredible variety of outdoor fun and old-fashioned family entertainment, then quickly book your room at our Lookout Mountain Bed and Breakfast Inn during any weekend in October, and see why October is the best month to be in Chattanooga.
Chattanooga's RiverRocks Festival
The annual RiverRocks festival is a unique and distinctive outdoor festival that celebrates not only the active outdoor lifestyle that defines Chattanooga, but also is a celebration of the natural beauty found throughout the stunning Tennessee Valley. As a mark of Chattanooga's committment to environmental stewardship and conservation, many of the events are held in the regions many parks and conservancies, highlighting countless possibilities for adventure.  This 10-day family-friendly event features a variety of activities, including rock climbing, trail running, kayaking, rowing, cycling, off-road biking, hiking, hang gliding, river cruises, music, and plenty of other entertainment.  RiverRocks is a draw for both world-class and amateur athletes from around the world, to both compete and celebrate an active lifestyle.
Start the month of October off right with 3 Sisters Bluegrass Festival, and the largest and most competitive 50k trail race in the Southeast, the StumpJump 50K.  The second weekend in October brings you the funky, but fun Fly Free Fest and Rooftop Hop, and challenging events like the Lula Lake Five Points 50, Swim the Suck 10 Mile, and the Urban Adventure Race.  The events keep coming during the third weekend in October, which features the 7 Bridges Marathon.  Finally, as if the rest of October wasn't packed with enough events, enjoy the final weekend of RiverRocks with fun events like ChattaJack 31 ride or the Triple Crown of Bouldering.  Or of course there is always the Ragnar Relay, where you and your team will run day and night through the beautiful fall foliage from Chattanooga to Nashville.  These spectacular events will all come to end on October 25th at the RiverRocks Finale Concert. There is a reason that city that was named by Outdoor Magazine as the Best City Ever.  Come stay for a weekend or two to watch or register for events yourself, and experience outdoor living the best way possible at Chattanooga's annual RiverRocks festival.