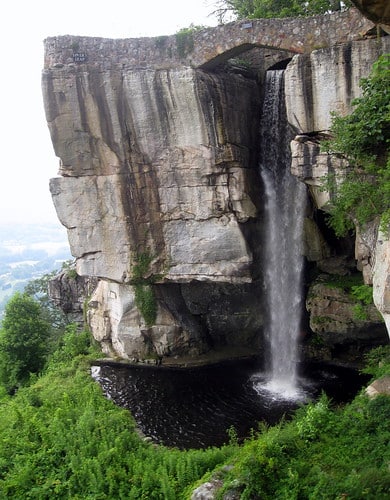 Chattanooga and the surrounding areas are a popular destination for outdoor adventure, with access to some of the nation's top venues for rock climbing, road and mountain biking, hiking, white-water rafting, hang gliding and more.  There are nearly endless opportunities for hiking throughout the greater Chattanooga area, many suitable for all levels of experience.  Located just 15 minutes outside of Chattanooga, you'll find the stunning recreational area known as Lookout Mountain.  As you wind your way through the trails of Lookout Mountain, you'll encounter nature at its most beautiful, but you'll also find yourself exploring centuries of human history, from ancient Indian pathways to tumbled stone walls and ruins left behind by settlers and soliders over the years. Stay at our luxury Bed and Breakfast Inn, and head into the 30 miles of beautiful hiking trails, leaving the tourists and traffic behind you.
Lookout Mountain Hiking Trails
Centuries past, Lookout Mountain was an active hunting ground for the regional Native American Tribes, and was eventually occupied by settlers, and later soldiers during the Civil War. Today, as you head into the mountains, you'll find a canopy of oak and hickory trees, along with poplar, maples, sweetgum, and scattered pine.  Below that canopy, you'll find beautiful dogwood, sourwood, redbud and sassafras blanketing the mountain, and providing habitat for the hundreds of animals that thrive here.  If you're new to hiking, or are just looking for a leisurely stroll through the mountain, then an easy and beautiful hike to take is the 1.1 mile walk from Point Park to Sunset Rock.  Point Park, at 2,135 feet of elevation, offers the best and most famous view of Moccasin Bend and Chattanooga.  From Sunset Rock, you can easily extend your hike along the Bluff and Gum Spring Trails, and eventually work your way back to Point Park.  Glen Falls is also a worthwhile easy hike that will reward you with a beautiful stream which cascades down the bluff, a short tunnel through the rock, and temporary seclusion away from the traffic on the highway.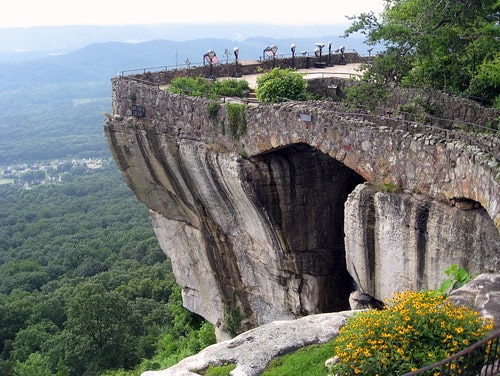 If you're up for a more challenging hike, try leaving from Ochs Gateway, and heading to Point Park. This route is one of the most scenic hikes in the park, providing access to the southern trails on Lookout Mountain.  If you're interested in hiking the entirety of Lookout Mountain, from bottom to top, then start at the Blue Beaver Trailhead, most easily accessed at the main gate to Reflection Riding. One of the most peaceful, and also most strenous, hikes in the park is the Skyuka Trail, which again is best accessed at the main gate to Reflection Riding. Here, you'll emerge from the forested slopes of Lookout Mountain onto Skyuka Spring, one of the most beautiful places on the mountain, finally ending on the grounds of Reflection Riding.  No matter how you choose to spend your day, we know you'll enjoy your time reveling in the beauty that Lookout Mountain is known for.  After a long day spent on the mountain, come back to relax at our beautiful Bed and Breakfast Inn.