Rock climbing is one of many popular extreme sports here in Chattanooga. Many climbers are used to traveling the country in search of a new crag to conquer, and Chattanooga does not disappoint. Here you'll find some of the best places in the country that offer challenging climbs, amazing views, and more. Whether you're a novice or a seasoned climber, Sunset Rock offers the best rock climbing in Chattanooga. 
Before you visit the area, be sure to download our complimentary Vacation Guide. You'll find everything you need from restaurants hiking trails to other ways to enjoy the great outdoors. Allow us to point you in the right direction. We'll ensure you have the best experience possible. 
Chattanooga Rock Climbing at Sunset Rock
Sunset Rock is the shining star of the Chattanooga climbing scene. People have been venturing to this rock face for scaling and climbing since the early 1960s. It's open year-round, allowing you the opportunity to indulge in the sport any time you like. 
About Sunset Rock
The sandstone cliff runs along the bluff on the northern side of Lookout Mountain. It's a fascinating place for climbers and Civil War buffs alike. Today, Sunset Park is part of the Chickamauga National Battlefield, as the popular lookout was a useful observation point during the war. From here, troops tracked enemy movements to anticipate attacks during the Battles for Chattanooga. It boasts a beautiful, linear cliff line and some of the best trad climbing in Tennessee. 
The Approach
Local Tip: There are a few ways to access Sunset Rock, though some are easier than others. We recommend parking near Cravens House and taking Bluff Trail until you reach the rock. It's an easy 1.5-mile trail. You'll want to save your energy for the climb. 
The Climb
You'll find some incredible views during your climb. You can get a bird's eye view of the Tennessee River as it wraps around Moccasin Bend. Sunset Rock also offers routes with a wide variety of difficulties. These routes can be easily top-roped or led, which makes this spot great for all skill levels. One-10 is a popular choice for climbers who are new to leading. If you're an expert climber, try your hand with Jennifer's World. This route presents a challenge to even the most experienced leaders. Choose your route based on difficulty and number of ascents ranging 1-26. You're sure to find one that suits you!
Parking Information and Tips
Local Tip: There is a parking lot just five minutes from the main overhang, though the lot is small and tends to fill up. The lot at Cravens House is larger and still offers a pleasant walk to your destination. Sunset Rock is shaded most of the time, so be sure to dress warmly if you're planning a trip in the winter. Sport climbing is not allowed on the rock, and all climbers and hikers must be off the cliff by sundown. 
For more information on routes, use Dixie Cragger's Atlas as a comprehensive guide to the area.
Stay at Our Bed and Breakfast Close to Sunset Rock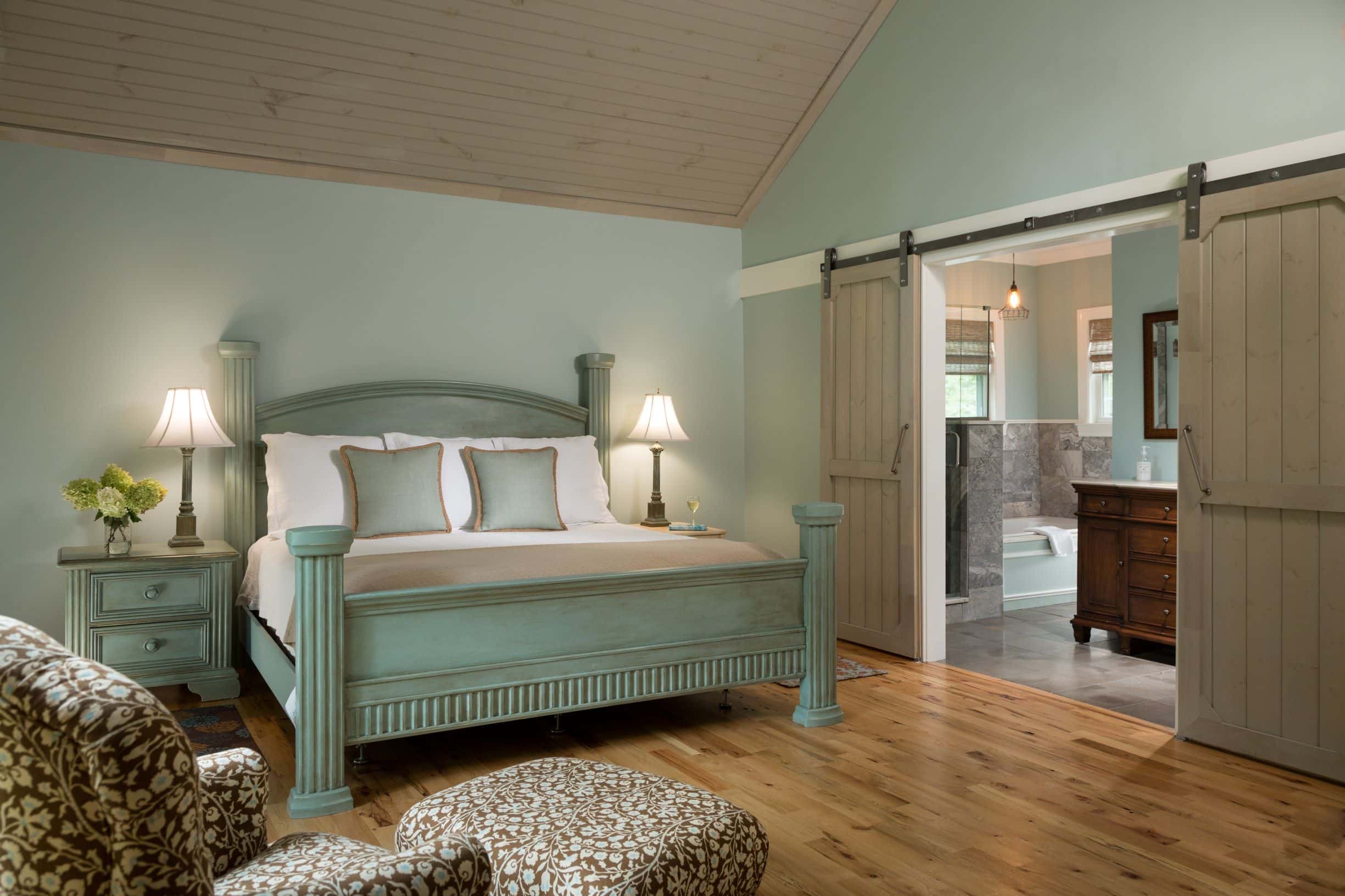 After a long day scaling the mountain, you'll need a comfortable place to rest. Our cozy bed and breakfast is just six minutes away from your ultimate climbing destination. We offer charming accommodations that are the perfect place to rest and rejuvenate. We'll provide a delicious breakfast each morning that you can enjoy on the stone patio and take in the beautiful mountain scenery. 
Our Hiking Above the Clouds Package pairs nicely with any climbing adventure. You'll receive trails maps to further explore the area, a packed lunch with snacks and water to keep you energized, and a cooler backpack for your travels. Check our availability and start planning your rock climbing escapade today.