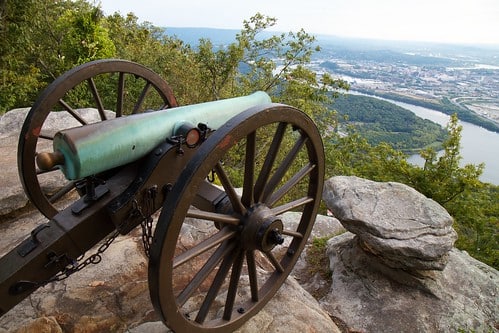 Chattanooga is one of America's most breathtakingly beautiful cities to visit, and offers guests a tremendous variety of fun activities to enjoy.  But do you also know that Chattanooga has a fascinating history, including many Civil War attractions that draw thousands of visitors each year?  Not only was Chattanooga the site of a major Civil War Battle, it is also home to the nation's first and largest military park, world-class history museums, and variety of other unique historical attractions.  The name "Chattanooga" itself means "rock coming to a point," referring to Lookout Mountain, the site of the famous Battle Above the Clouds.  Book your room at our Lookout Mountain Bed and Breakfast today, and start exploring Chattanooga's top Civil War Attractions.
Relive the Civil War Battle of Chattanooga
Thanks to Chattanooga's strategic position near both the Tennessee River and vital Railways, it was considered to be a valuable gateway into the Deep South during the Civil War.  Therefore, some of the hardest fought battles of the Civil War happened during the fall of 1863 on Lookout Mountain and Missionary Ridge.  A key battle in the Civil War, the Battle of Chattanooga, often referred to as the Battle Above the Clouds, happened on Lookout Mountain during this time.  In an effort to lift the Confederate siege of Chattanooga, General Ulysses S. Grant led the Union Army to ultimate success on Lookout Mountain, winning a battle that has frequently been called a major turning point in the Civil War, and a battle that ultimately led to the Union's invasion of the deep south, and to the defeat of the Confederate Army in 1865.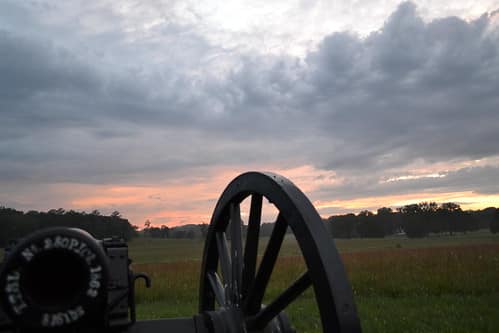 In 1895, the Chickamauga and Chattanooga National Military Park was dedicated, marking it the first national park established to preserve a Civil War battlefield.  This beautiful park spans the borders of Georgia and Tennessee, and features Civil War Attractions and points of interest at Chickamauga, Lookout Mountain, Missionary Ridge, Orchard Knob and Signal Point.  Start your visit to this park at the visitor center, which features extensive exhibits, the Fuller Gun Collection, an orientation film and fiber optic map, maps of hiking and biking routes, and information on how to best experience this portion of Civil War history.  Other fun things to do in Chattanooga that are related to Civil War history include the Buttonwillow Civil War Dinner Theater, the Chattanooga National Cemetery, the Lee-Gordon Mansion, and the Tennessee Valley Railroad Museum.  With all of these great things to see and do in Chattanooga, don't hesitate to book your room at our luxury Bed and Breakfast on Lookout Mountain today.