Having recently been dubbed the "Best Town Ever" by Outside Magazine, there couldn't be a better time to visit the thriving city of Chattanooga.  Even before receiving these top honors, Chattanooga was hailed as a top outdoors destination, with venues for a wide variety of activities, such as rock climbing, white-water rafting and paddling, road and mountain biking, hiking, caving, hangliding, and so much more.  With so many truly wonderful, and some definitely heart-pumping activities to enjoy in this awesome city, a favorite activity of many of ours guests is to enjoy a peaceful day on the Tennessee River, stopping at the Audobon Island Wildlife Sanctuary.  Book your room at our luxury Chattanooga Bed and Breakfast, and enjoy a peaceful day spent on the water.
Audobon Island Wildlife Sanctuary
Audubon Island Wildlife Sanctuary is found in the middle of the Tennessee River near downtown Chattanooga, and is a unique 18 acre wildlife sanctuary.  Though the Veteran's Bridge goes over the island, the only way to access this beautiful and serene destination is by water. The best way to do this is to either rent a kayak or a stand-up paddle board from L2 Outside or River Canyon Kayak and Paddle Adventures, and pick your route along the Tennessee River.  If you haven't tried it before, we recommend taking a SUP (Stand Up Paddle Board) out to the island.  It is currently the world's fastest growing watersport, it's easy to learn in one day, it's a great workout, and it's incredibly fun.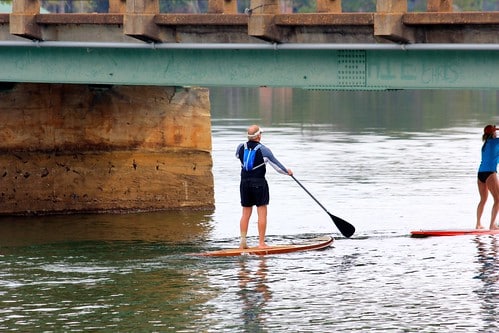 Audobon Island Wildlife Sanctuary, once inhabited by Native Americans and later farmed by settlers, is a wonderful place to enjoy a relaxing picnic, taking in the sights and sounds around you.  On the island itself, you'll find an incredible range of plants, animals, and birds, including Muskrats, Geese, Kingfishers, Songbirds, Turkeys, Raccoons, Owls, Possums, Fox, Woodpeckers, and more.  You may even have a chance to see nesting Osprey and Great Blue Heron.  Around the island, you'll find 1.5 miles of trails suitable for birdwatching, hiking, and relaxing.  There is also a campsight that is by reservation only.  To enjoy a peaceful day on Chattanooga's Tennessee River, book your stay at our luxurious Bed and Breakfast today.