During these long Chattanooga summer days, you just want to make the most of every minute. From the second the sun comes up to the moment it dips beyond the horizon, there is so much to do. Hike, bike, kayak, swim, shop, dine, or simply sit back and take in the town and finish off your day with a sunset to remember at one of these incredible sunset viewing points right here in Chattanooga.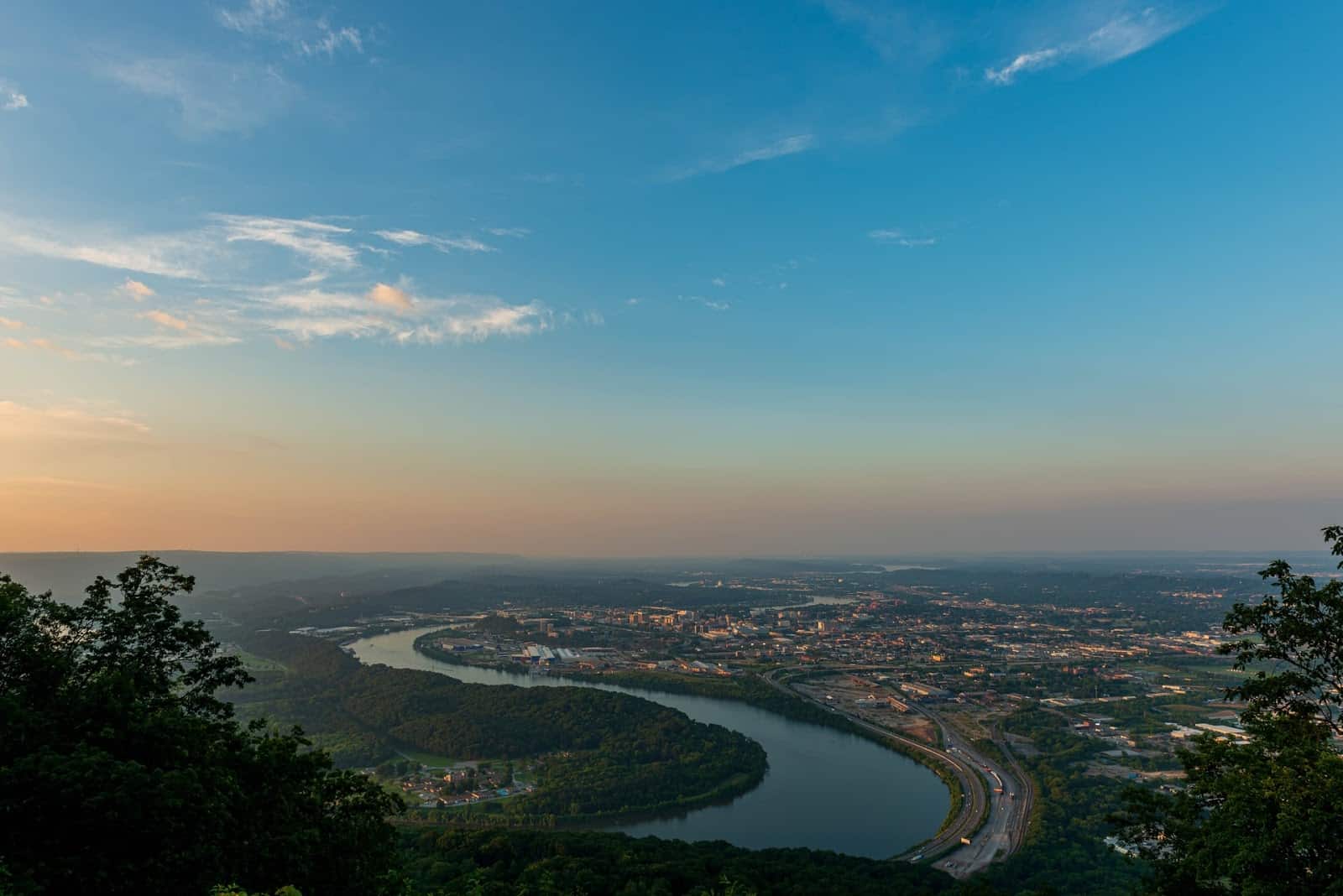 Kicking off the list is the iconic Sunset Rock. Not surprisingly, this lookout area is known for incredible sunsets every day of the year. During the daytime this park is filled with rock climbers looking to scramble, boulder, and conquer anything in sight but as the sun reaches the horizon, families, and couples gather around to watch the sky fill up with color. This rocky bluff pokes out over Lookout Mountain and gives you a panoramic view of Chattanooga's downtown and the Tennessee River.
The Raccoon Mountain Project is one of the best renewable energy facilities in the nation. History buffs, energy enthusiasts, and tech-savvy visitors should all make time to check out this marvel of human ingenuity. While the visitors center closes a few hours before sunset, you can get the best of both worlds by visiting just before closing and hiking around the trails and scenic area until sunset. The area is also a well-known wildlife observation area. In addition to the namesake raccoons, you'll see bald eagles, grey foxes, and all sorts of woodland creatures. 
If you feel like you've discovered every nook and cranny of town and want something a little different, head out east to the Ocoee Scenic Byway. This winding road climbs up and over mountains, through river valleys, and transports you to a whole different world. Plan a sunset picnic and pull off anywhere on the highway with a view of Lake Ocoee. One local favorite is the Sugarloaf Observation Site complete with picnic tables and trees to hang hammocks, or the Lakeview Loop Trail if you want a little hike with your views. 

For expert hikers looking to break a sweat and get in some exercise on their sunset viewing adventure, Edward's Point Trail is the place to start. This out-and-back trail is just over 4 miles round trip and passes by unique rock formations, a gorgeous waterfall, and a wooden suspension bridge before delivering you to the final sunset destination. If you're watching the sunset, make sure to leave well before the sun dips below the horizon or bring a couple of flashlights for your trek down. 
Like an evergreen Horseshoe Bend, Snoopers Rock is an iconic landmark in Chattanooga. Despite being just outside of town, you truly feel like you are in the expansive wilderness. There are two ways to arrive at the rock. First is a 6-mile hike through a popular birding trail or you can take the shortcut starting at the upper parking lot. If you're looking for a great mid-day trail take the longer path, but for a quick sunset excursion, the 0.6-mile hike from the upper parking lot is the way to go. 
To watch downtown Chattanooga light up during the golden hour, head to Stringer's Ridge Park on the Northshore. This historic property was set aside as a 92-acre wilderness park. You'll find hikers, bikers, runners, and birders all over the park exploring all of the little gems hidden in the woods. You could spend an entire day exploring all of the abandoned stone buildings that dot the woods, but the best attraction is the large deck overlooking the town. Bring some binoculars and sightsee from the best vantage point in the city. 
After a day of hiking, swimming, shopping, and dining finish on a strong note with an iconic Chattanooga sunset. Order a romance package from Chanticleer Inn and enjoy chocolate-covered strawberries, macaroons, or truffles along with a little champagne and a view. Afterward, you can come home to your luxurious rooms and suites at the Chanticleer Inn Bed & Breakfast and get ready for another amazing day.