Whether you're a thrill-seeker in search of your next adrenaline rush, interested in a new hobby, or just looking for an afternoon of fun, we know the right thing for you! Hang gliding on Lookout Mountain is an experience of a lifetime that can fulfill your wildest expectations. Get your feet flying high above the ground and witness views of the Tennessee Valley that are unlike any other. We have all the details you need!
You'll want to experience the very best of Chattanooga during your trip. Download a free copy of our Vacation Guide. You'll gain insider information on restaurants, hiking trails, and other unique Chattanooga activities. You won't want to miss a thing!
You'll Find the Best Hang Gliding on Lookout Mountain
Where to Go
If you're interested in hang gliding, you'll find few places better than Lookout Mountain. Spread your wings and head over to Lookout Mountain Flight Park. It's one of the oldest and largest hang gliding schools in the United States. If you're interested in doubling up on extreme sports, the park also offers paragliding. 
What to Expect
Don't let fear hold you back from trying something new! Here you'll find world-class instructors prepared to teach to any skill level. No experience is necessary to make your first visit, and you'll always be in great hands when you fly here. Spend an afternoon flying tandem with a highly skilled instructor, or take a course to begin your journey to solo flight. 
Fly Tandem
Get ready for the ride of your life! Lookout Mountain Flight Park offers something for all interest levels. Whether you want a full day of flight practice or just a couple hours to enjoy the ride, you're sure to leave with unforgettable memories. 
Most who visit choose to fly tandem. You'll begin with an introductory training course which will teach you the basic fundamentals of hang gliding. You can practice your new skills on the bunny slope until you finally graduate to the main landing zones. Once in the air, your instructor will even give you the chance to steer the hang glider yourself! Each flight lasts eight to twelve minutes, and you can choose to fly to 1,500 or 3,000 feet. 
Beginner Tips
Hang gliding is dependant on the wind and weather conditions each day. Call Lookout Mountain Flight Park ahead of time to verify that they're performing flights before you go. When you arrive, don't be afraid to take your time during the initial training. You'll want to feel fully prepared when you finally reach the air. 
Stay on Lookout Mountain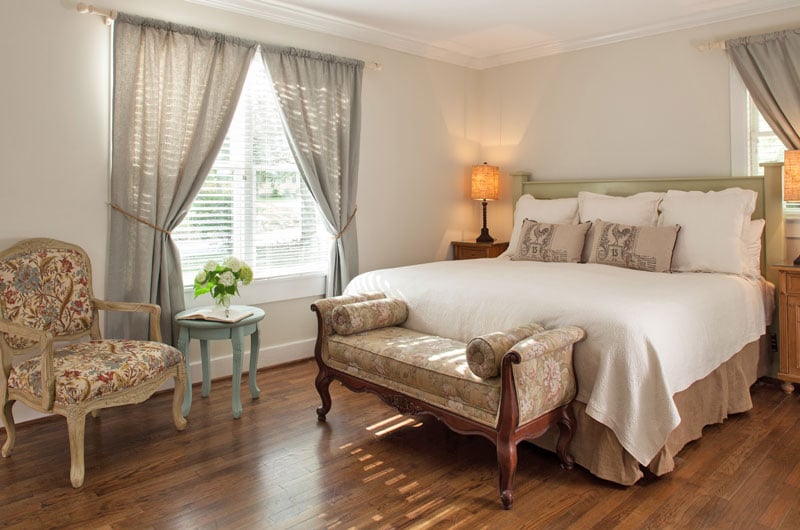 Soaring high above the clouds is sure to give you a rush of adrenaline. Luckily, there is lodging conveniently located on Lookout Mountain! Chanticleer Inn is a short 10-minute drive from the park. You might even be able to see the inn during your flight! 
Book your stay in the luxurious Room 11. You'll wake up each morning in this Deluxe King room with a view of the beautiful grounds that surround Chanticleer Inn. Enjoy a gas log fireplace, in-room Keurig machine, private patio, and a king-size bed. Book this room or choose from our many other rooms to host your stay.