With summer just around the corner, it's time to start planning your ultimate outdoor adventure. In Chattanooga, Tennessee, you will find no shortage of sunshine-filled fun. Known for its outdoorsy residents and picturesque views, Chattanooga ranks high on the lists of adventure seeking enthusiasts. From thrilling water activities to land adventures, we've narrowed it down to the top must-do activities for your summer vacation.
1. Rent a Kayak or Stand Up Paddleboard
Beat the heat and float down the Tennessee River! Kayak and paddleboard rentals are available from multiple locations like L2 Outside or River Canyon Adventures. Take the day and explore the Tennessee River at your own pace. Soak in the scenery and bask in the warmth of the Tennessee sun – just don't forget the sunscreen!
2. Take a Quack at the River
Contrary to the name, there are no ducks involved in this tour. Amphibious duck boats are famous for their ability to operate on land and in water. At Chattanooga Duck Tours, start your adventure touring the streets of Downtown Chattanooga, after which your vehicle will transform into a boat to continue the tour on the Tennessee River. Your guide will take you back in time as they give you a glimpse of Chattanooga's rich history. This unique tour should be high on your list this summer!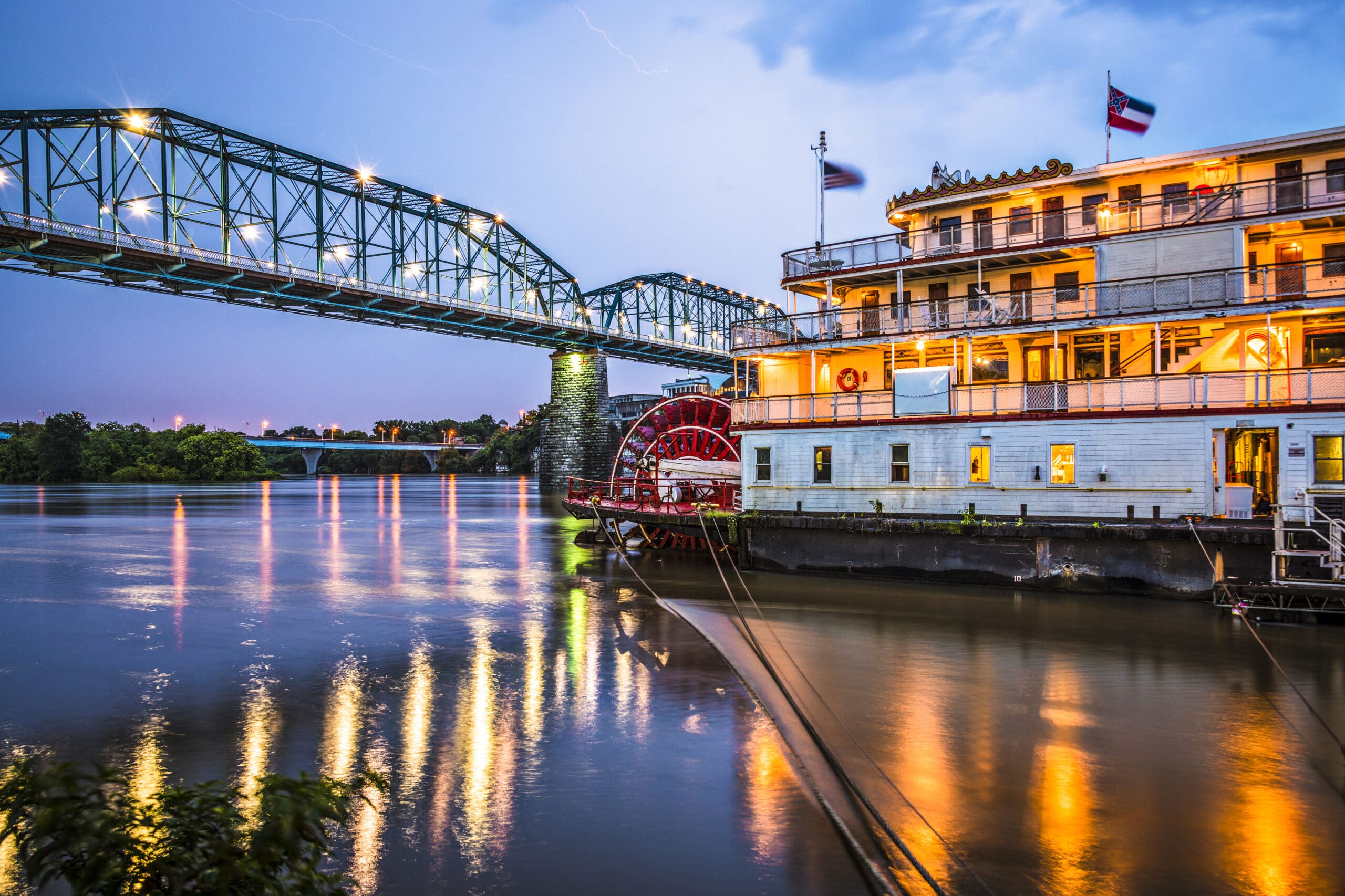 3. Cruise along the River
Take a break from the excitement with a relaxing cruise along the Tennessee River by Southern Belle Riverboat Cruise. Choose from a daytime or sunset tour, where you will be able to cruise by beautiful downtown Chattanooga. The daytime tour includes a live narration of fun facts about Chattanooga and the Tennessee River, while the sunset tour includes live music and an option to purchase a glass of wine. Both are great options and give you a chance to sit back and enjoy the views.
4. Zip Across the Skies
Calling all thrill seekers! Get your adrenaline pumping by soaring high over treetops on Lookout Mountain. At High Point ZIP Adventure, start your adventure climbing up a rock wall followed by descending down two thrilling ziplines. Take in stunning views while feeling the rush of fresh mountain air as you glide through the sky. This experience is a must for your visit!
5. Rent a Pontoon Boat
Want to spend the day on the water? Rent a pontoon from Erwin Boat Rentals, and load up your friends and family for a fun-filled day. Erwin Boat Rentals has the option to rent a Tri-Toon, which can hold 12-15 people. Take the party out on the water and tour the Tennessee River, or drop anchor and jump in. A pontoon rental will meet all of your summer fun needs!
6. Pump Adrenaline on Land and Sea
On land and in water, Adventure Sports Innovation has all you need! Hit the trails with the Swincar E-Spider Off-Road Vehicle. Tackle rugged terrain and thrilling inclines as you travel at top speeds through the mountains of Chattanooga. Feeling more of an on water adventure? Try out a Lift eFoil Surfboard. Enthusiasts of all levels can glide over the top of the Tennessee River, reaching top speeds of 25 mph – an absolute thrill of a ride! There are plenty of options to choose from that will make your visit to Chattanooga an outright blast.
7. Belay On
At High Point Climbing, you don't need to be an expert to climb a mountain. With guided tours offered at all levels, this is the perfect opportunity to get outside and experience the thrill of rock climbing. Choose from multiple locations, like Foster Falls, a top choice if you want to see breathtaking views and a waterfall. Expert guides are available any day of the week for this adventurous attraction.
Whatever summer activity you choose, you will be happy you followed our guide for the ultimate outdoor adventure. Book your stay at Chanticleer Inn Bed & Breakfast, located on Lookout Mountain only 10 minutes from downtown Chattanooga. After a long day of exploring, sit back and relax around the outdoor fire pit, or take a stroll through their lush gardens. Chanticleer Inn Bed & Breakfast is the perfect starting point to all your outdoor activities.