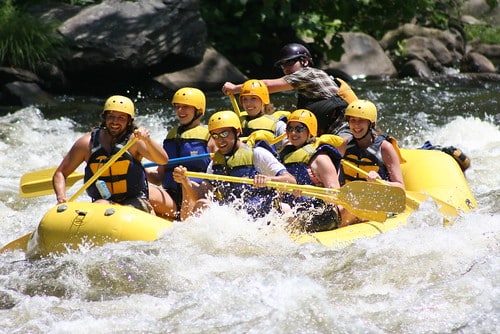 Summertime is officially here, and it's definitely heating up outside.  Luckily for us, water flows through the very heart of Chattanooga, making it that much easier to cool off on a hot summer day with a great variety of water activities.  Chattanooga has long been hailed as a top outdoor destination.  Here, you'll find access to some of the very best rock climbing destinations, amazing opportunities for both road and mountain biking, incredible diversity in hiking trails, and a variety of different ways to enjoy a cool dip into Chattanooga waters. Book your stay at our Bed and Breakfast Inn on beautiful Lookout Mountain, and start planning all of the different ways you'll enjoy the water activities of Chattanooga.
Chattanooga's Top Water Activities
Beginning in the beautiful mountains of Virginia, North Carolina, and Georgia, the Tennessee River watershed provides the Chattanooga area with an abudance of water activities to enjoy.  Whether you're looking for some adrenaline-pumping white water rafting, or whether you're rather take a more laid back approach to the waterways in and around Chattanooga, there's something for everyone to enjoy.  There are quite a few places around Chattanooga where you enjoy either a white water paddle in your kayak, or go on a more extensive white water rafting journey with local guides.  To the east, you'll find two of the most beautiful and iconic whitewater rafting destinations, the Ocoee and Hiwassee rivers.  The Ocoee River is best for thrill-seekers, where you'll find class III-IV rapids, while the Hiwassee river offers rafters a more laid back experience with Class II chutes and wave trains.  If you'd rather leisurely float down the river, then you'll find commercial rafting, kayaking and tubing outfitters offering class I and II tubing trips down both of these rivers as well.
Perhaps you prefer hopping on a kayak, canoe or even standup paddleboard and exploring the inner reaches of Chattanooga's waterways on your own. The Tennessee River Blueway system, including North, South and West Chickamauga Creeks and Lookout Creek, is the perfect place to enjoy these more relaxing water activities.  You can take a paddling trip right from the heart of downtown Chattanooga along the gorgeous Tennessee River. Leave from Chattanooga's Coolidge Park and wind your way through the Audobon Island Wildlife Sanctuary, where you're likely to spot Great Blue Heron, Osprey, and even River Otters.  You'll also enjoy the beautiful views of Chattanooga's Bluff View Arts District, the historic Ross' Landing, and of course the city's beautiful downtown bridges.  The waters around Chattanooga are also perfect for a little summer fishing, as Tennessee is home to more species of freshwater fish than anywhere else in North America.  As you can see, the waters in and around Chattanooga truly do offer some of the most diverse and exciting water activities around.  There's no shortage of fun in Chattanooga.  Book your room with us now, and come cool off with an exciting dip into the waters around Chattanooga!