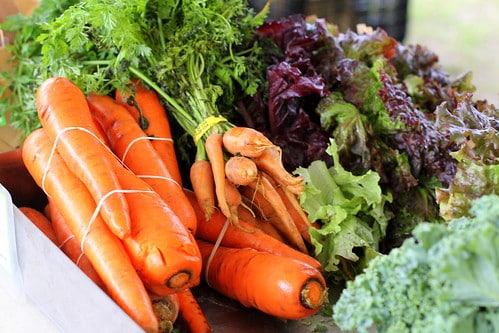 Chattanooga is one of the South's top travel destinations, in part thanks to abundance of fun and interesting things to do in this vibrant city. Whether you're into adrenaline-filled outdoor adventure or want to explore a rich culture filled with amazing restaurants, live events, great shopping, art and other world-class attractions, you'll find plenty to love about Chattanooga. Though Chattanooga has some truly spectacular shopping districts with something for everyone, there is perhaps nothing better than a weekend afternoon spent browsing through local Chattanooga markets.  The local markets are wonderful places to experience some great Southern traditions like crafts, music, food and the farm grown produce that is central to Chattanooga's delicious cuisine.  Summer's best markets are just minutes away when you stay at our luxurious Bed and Breakfast on Lookout Mountain.
Unique Shopping at Chattanooga Markets
There are two distinct and wonderful Chattanooga markets that should be on anyone's shopping itinerary when visiting.  The first of these markets is the famous Chattanooga Market, which has been listed as one of the top 10 public markets in the nation.  This market is truly spectacular, and should be on the top of the list for anyone visiting Chattanooga from April through November.  Here, you'll find 50 regional farms that bring a beautiful variety of produce, meats and cheeses to the market on Sunday's and Wednesdays.  The Chattanooga Market also houses over 130 artisans that share their unique crafts, arts, farm-fresh goods, and other locally made specialties. If that's not enough, weekends at Chattanooga markets are filled with the sounds of live music from regional bands, and food is never on short supply with the glut of food trucks on hand to share their tasty treats.
The second of the main Chattanooga markets is the Saturday Chattanooga River Market.  This market takes place at the First Tennessee Pavilion at the Tennessee Aquarium Plaza.  Set admist the beautiful backdrop of the Tennessee River, this market is a great place to pick up some local art.  The unique talents that frequent this market offer a variety of goods, including jewelry, photography, apparel, woodworks and much more.  If you love the market scene, you may want to try out the East Ridge Flea Market as well, open every Saturday and Sunday.  With over 200 vendors, this is one of Tennessee's largest indoor flea markets.  There's never a dull moment in Chattanooga, and shopping at these exciting markets proves it.  Book your room at our luxurious Bed and Breakfast on Lookout Mountain today.