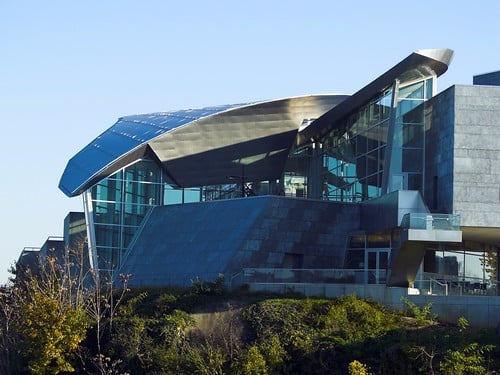 The Chattanooga art scene is second to none, and exploring the different art venues throughout the city is a fun way to get to know the true character of this beautiful city, nicknamed the "scenic city" for good reason.  Everywhere you look, you'll find scenic vistas of the Tennessee River Gorge, in addition to the wonderful works of art throughout the city.  Here, you'll find amazing art museums and gallery collections, entertaining music and arts festivals, one of the nation's best artisan markets, as well as emerging arts and artists in Chattanooga's beautiful art districts. Satisfy the art lover in you, when you book your room at our beautiful Chattanooga area Bed and Breakfast today.  
Enjoy the Chattanooga Art Scene
The rich Chattanooga art scene is anchored by one of the nation's largest collections of American art, found at the Hunter Museum of American Art.  The building that houses this collection is worth a visit in itself, let alone the spectacular collection of art that is housed inside.  This architectural gem is perched on an 80-foot bluff on the edge of the Tennessee River, providing visitors with stunning panoramic views of the Tennessee river and surrounding mountains.  The exceptional collection of American art inside, recognized as one of the country's finest, is the perfect way to explore and better understand American History, through featured art of the colonial period through today.  Current exhibits include New York Times Magazine Photographs, the Open 24 Hours exhibit, and a Collections Focus exhibition on artists Raphael Soyer [1899-1987] and Harold Cash [1895-1977], and their varying approaches to depicting the female form.
If you still crave more of Chattanooga's art scene after visiting this museum, then we highly suggest you visit some of the spectacular art galleries in downtown Chattanooga.  Favorites include the River Gallery, featuring jewelry, paintings, sculpture, pottery and glass from prominent regional, national and international artists, In-Town Gallery, one of the nation's oldest cooperative art galleries, and Gallery 1401, featuring artists ranging in styles from contemporary realism to impressionism.  Another wonderful place to visit is Ignis Glass Studio, where you will enjoy a unique hands-on experience, including blowing your own glass ornaments or sun catchers. After an art-filled morning, the Bluff View Arts district is a wonderful place to spend an afternoon.  This historic district, set high atop the bluffs of the Tennessee River, is filled with restaurants, a coffee house, art gallery, and plenty of gardens, plazas and courtyards where you can relax and rejuvenate. Book your room at our luxury Bed and Breakfast this winter, and enjoy the world-class Chattanooga art scene.