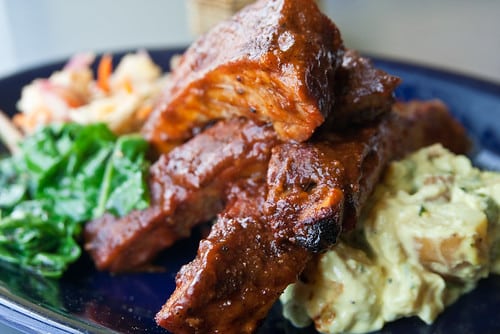 Chattanooga has been hailed as one of the South's top travel destinations.  For those of us that live here, that's not a surprise.  Not only is Chattanooga beautiful, tucked in between the mountains to the southeast and the stunning Tennessee River Valley, but it also offers an incredible and diverse range of attractions and activities to keep us busy. There is definitely something for everyone in this Scenic City, from exciting outdoor adventure and shopping, to world-class restaurants and beautiful art.  Of course, as with most popular travel destinations these days, visitors and residents alike have the good fortune to enjoy the many spectacular restaurants and food experiences that our city has to offer. Stay at our Lookout Mountain Bed and Breakfast for a few days this summer, and let the amazing tastes at local Chattanooga restaurants be your guide around our wonderful city.
Top Chattanooga Restaurants
Many Chattanooga Restaurants offer you an out-of-this-world food experience, with tastes ranging from traditional southern cooking and BBQ, to tasty ethnic foods and fine dining establishments.  Start your first day off right with a tantalizingly good homemade breakfast at the Chanticleer Inn, where we feature an array of fresh fruits, cereals, sweet breads and cakes prepared daily, in addition to hot specials, including Blueberry Buttermilk Pancakes, Eggs Benedict, Assorted Frittatas, Belgian Waffles, and more.  Afterwards, head into the city for a little shopping and to peruse the art galleries along main street.  You can even try your own hand at glass blowing at iGNiS Glass Studio, all the while working up your appetite for a wonderful lunch at Lupi's New York Style Pizzeria.  Foodie's will love this hand-crafted slice of pizza heaven, which uses all local ingredients, including the ground beef, tomatoes, and the house-made mozzerella.  Afterwards, you may as well visit the nearby Tennessee Aquarium.  After your fill of sea life, enjoy a walk along the riverwalk, enjoy the views from Walnut Street Bridge, or burn off some of those calories you've eaten with a paddle board or kayak along the Tennessee River.  When you're ready for dinner, you won't want to miss a favorite Chattanooga restaurant, St. Johns, or their sister restaurant The Meeting Place.  A meal from Chattanooga's only James Beard nominated chef, Daniel Lindley, will definitely not disappoint even the most avid of foodies.
There's no better way to start your second morning in Chattanooga than with a delicious brunch at FoodWorks, as evidenced by the often jam-packed weekends in this former knitting mill.  Afterwards, you'll be perfectly situated in Chattanooga's hip NorthShore Neighborhood, where you'll find plenty of fun shops, boutiques, and art galleries to peruse.    As the afternoon wanes on, consider a visit to the stunning Hunter Museum of American Art.  As the day ends, enjoy a tasty dinner at the popular 212 Market, a restaurant known to be at the forefront Chattanooga's local food movement.  End your evening with cocktails featuring house-made seasonal liquor infusions at Easy Bistro & Bar.  Hopefully you have at least a second, if not a third and a fourth day in Chattanooga to continue exploring the city and the best food experiences it has to offer.  All of this and more is at your fingertips when you stay at our luxurious Bed and Breakfast.