Chattanooga's gorgeous cityscape, which earns it the nickname "scenic city", is framed by rolling mountain ranges and gently flowing rivers, making it the perfect destination for a romantic getaway. Spend a romantic weekend in Chattanooga, and you'll find not only awe-inspiring views everywhere you look, but you'll also find yourself in a city with a healthy sense of history and adventure, an eclectic arts and music scene, and some of the best dining in the South.  When you stay with us, you'll find a romantic ambience everywhere, whether it's sitting in front of our gas log fireplace, enjoying the lush gardens, staying in our private and luxuriously appointed guest rooms, or waking up to wonderfully romantic views of Chattanooga Valley.  Book your room now, and see for yourself why Chattanooga is the perfect destination for a romantic getaway.
The Perfect Romantic Getaway in Chattanooga
Start your romantic adventure by heading into downtown Chattanooga for some sighseeing, a little adventure, some shopping, and of course some great food.  A fun way to kick romance into high gear is to try something both new and exciting.  Why not test yourself at Chattanooga's newest attraction, High Point Climbing and Fitness. After your exhilarating morning, take a stroll along Chattanooga's beautiful Riverwalk, as you work your way to the Walnut Street Walking Bridge and into the Northshore District, where you'll find great shops and galleries worth browsing.  Have some unique fun in the afternoon with Chattanooga's popular Pints and Pedals, a two hour pub crawl on wheels.  Afterwards, grab a drink and appetizer at Easy Bistro & Bar or Bluewater Grille, followed by dinner with a view at Back Inn Cafe, which has consistently been voted as Chattanooga's most romantic restaurant.  End this perfect romantic day in Chattanooga with coffee and dessert at nearby Rembrandt's Coffee House, which features artisan chocolates and other sweet treats from the in-house pastry chef.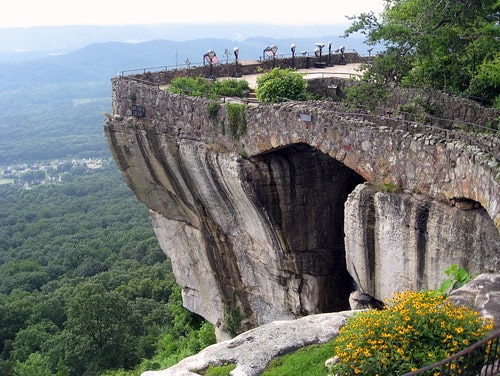 After a packed day of fun seeing downtown Chattanooga, you'll be ready to get outside to explore the beautiful trails and byways in the area.  While the options are endless, we think a perfect place to start is our very own Lookout Mountain, where you can enjoy panormaic views over the beautiful Chattanooga Valley and the plunging depths of Ruby Falls.  South Cumberland State Park is also a wonderfully beautiful destination for hiking, where you'll find rewarding and romantic views waiting for you. If you're looking for even more ways to see our beautiful region, the Pie in the Sky and Tanasi trails are a great place to start.  No doubt you'll be ready for a drink after your exhilarating day, so head to DeBarge Vineyards & Winery, Chattanooga's only urban winery, for a sample of their delicious wines.  Afterwards, head to either the historic High Point Restaurant, or award-winning Chef Daniel Lindley's Alleia for dinner.  The way you spend your romantic getaway in Chattanooga is up to you, but one thing is for sure:  A romantic weekend spent at our Lookout Mountain Bed and Breakfast will leave you recharged and inspired.  We look forward to your stay!