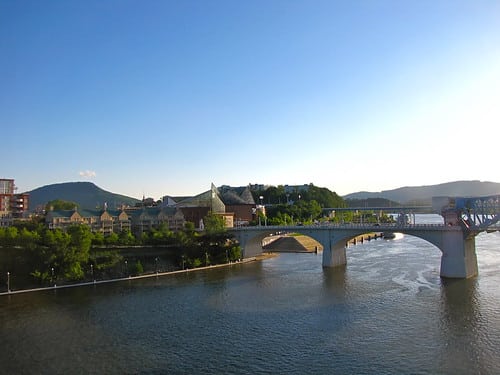 With so much to see in a great city like Chattanooga, it's no wonder that visitors can start to feel overwhelmed by all of the fun and exciting possibilities of Chattanooga attractions. With a variety of romantic activities to enjoy, fun family-friendly attractions, and opportunities for heart-pumping fun, it's no wonder Chattanooga has been so consistently ranked as one of the top travel destinations in the South. Downtown Chattanooga attractions include an incredible combination of scenic beauty, a beautiful waterfront with parks, restaurants and riverboats, outdoor adventures, rich history, fun attractions, and great shopping.  And that's just the beginning!  The more time you spend in Chattanooga, the more of this fascinating region you'll be able to explore.  Get started planning your next trip by booking your room at our luxurious Bed and Breakfast, located a few minutes outside of Chattanooga on beautiful Lookout Mountain.
Experience the Top Chattanooga Attractions
To start things off right on your Chattanooga vacation, you simply can't miss a visit to Lookout Mountain, especially considering you're start your day right across the street from these top Chattanooga attractions.  Once atop Lookout Mountain, you'll see the views of the stunning Chattanooga Valley that have made this place famous the world over.  We suggest you start your day plunging into the depths of Ruby Falls, which features the world's tallest underground waterfall.  Afterwards, take a stroll through Rock City Gardens, and enjoy the stunning "See Seven States" view out over the Chattanooga Valley.  Finally, end your day riding up the Incline Railway, which is the world's steepest passenger railway.  If you're an enthusiastic Civil War History fan, you'll want to walk the grounds of the "Battle Above the Clouds" at Lookout Mountain's Point Park while there.
Once you head into the city, you'll find that the top Chattanooga attraction is the Tennessee Aquarium, located on the banks of the Tennessee River.  While an aquarium may not rank at the top of your to-do list on vacation, this one was ranked the number one Aquarium in the country for a reason.  You may also want to hop on a riverboat while you're downtown, for a truly unique glimpse of the Tennessee River Gorge, which is one of the most biologically diverse areas of the country.  If you're in town on Sunday after April 25th, definitely don't miss your chance to browse the local vendors at the famous Chattanooga Market.  If you're up for it, get your heart pumping with the latest Chattanooga Attraction, High Point Climbing and Fitness. This beautiful new attraction epitomizes Chattanooga's strong emphasis on the active lifestyle, and features an outdoor climbing walls made of transparent climbing material, and that has lead, top rope, and auto-belay walls, as well as two 15 meter speed climbing walls.
We've only touched the top of the iceberg when it comes to the amazing Chattanooga attractions awaiting you on your next adventure.  Book your room early, and start planning your next great adventure.