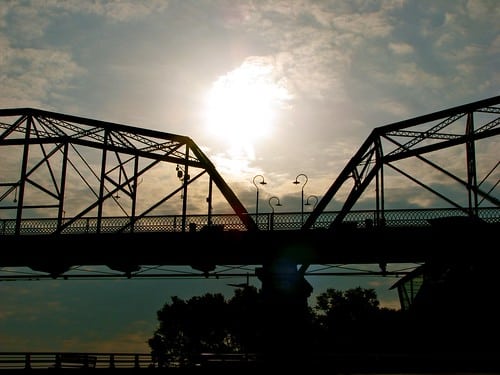 Did you know that Chattanooga is currently in the running to be named the "Best Town Ever" by Outside Magazine?  For those people that live here or visit frequently, that really shouldn't come as much of a surprise, because it's won this title before. Chattanooga is a fascinating city to visit for a variety of reasons, but perhaps none more popular than the exciting and dynamic opportunities for outdoor recreation that can be found in the Scenic City.  While Chattanooga offers residents and visitors unique opportunities for outdoor adventurers of all varieties, including rock climbing, road and mountain biking, hiking, white-water rafting, paddle boarding, caving, etc., we think a day spent on the many scenic hiking trails around Chattanooga is one of the best ways to spend a day (or more) in this beautiful city.  Make sure to bring you hiking boots when you book your room at our luxury Bed and Breakfast on Lookout Mountain.
Explore These Hiking Trails in Chattanooga
Given that our Bed and Breakfast is located at the top of stunning Lookout Mountain, we'd be remiss to mention the spectacular hiking trails that are located right here, just steps outside your cozy bedroom at our luxurious Bed and Breakfast.  Lookout Mountain is home to over 30 miles of hiking trails ranging in difficulty levels.  As you move along these trails you'll be reliving the stages of years past, where once upon a time the Indians hunted, Settlers logged for timber, and even where significant Civil War events took place.  These hiking trails are historically interesting, but also lead to rewarding views out over Chattanooga and the Tennessee River Valley.  Popular trailheads on Lookout Mountain include the Guild Hardy Trail,  Point Park, the Bluff Trail, Sunset Rock, and Glen Falls.  When you're done hiking for the day, of course you'll want to check out all of the other attractions on Lookout Mountain, including Ruby Falls, Rock City Gardens, and the Incline Railway.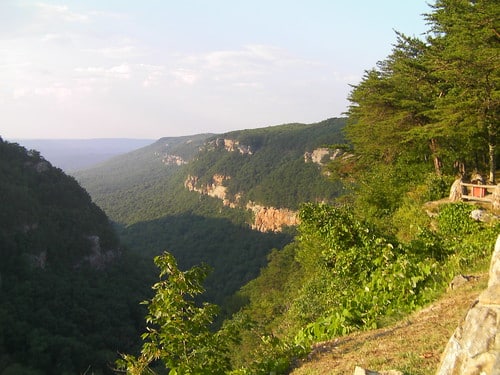 Once you're off Lookout Mountain, you'll have access to dozens of hiking trails in the Chattanooga area, all together totaling over 400 miles.  Of these fantastic hiking destinations, a popular favorite is Cloudland Canyons State Park.  You won't have to go far to get there, as it's located in Georgia on the Western edge of Lookout Mountain.  It's one of the most scenic parks in the State of Georgia, where it straddles a deep gorge cut into the mountain by Sitton Gulch Creek.  The best view in the park is easily accessible from the picnic area, but hiking trails will also lead you along the rim trail or to the canyon floor by a series of staircases.  Other popular day hikes near Chattanooga include Enterprise South Nature Park, Racoon Mountain and Stringers Ridge.  With no shortage of trails and exciting places to explore, you'll see firsthand why Chattanooga is in the running as the "Best Town Ever" again. Pack your hiking boots, and book your stay at our luxury Bed and Breakfast today.